Pipeline Construction Projects
Hybrid air vehicles could have a valuable role in many
construction projects, but pipeline projects are particularly
interesting. The construction is spread out over thousands
of miles and an immense volume of pipe and other
materials has to be transported through areas with minimal
infrastructure. There are at least four major pipeline
projects planned for Canada and the north as of December
2005. They include:
Mackenzie Valley Pipeline (gas) - $7 billion
Alaska Pipeline (gas) - $13 billion
Gateway Pipeline (oil) - $2.5 billion
Keystone Pipeline (oil) - $2.0 billion
Logistics Challenges Relating to Northern Pipeline
Construction
Several transportation related challenges face the developers
of northern pipelines for which hybrid air vehicle are ideally
suited:
Soft and sensitive ground conditions limit construction to a
short winter season where conditions of cold and darkness are
at their harshest. This creates a massive logistics challenge
because the entire requirements for pipe, construction material,
camps, equipment and personnel must be mustered to the
northern sites during the off-season so that everything is
available for the short construction season
There is significant stress placed on the existing
infrastructure of roads, rail and barges. Given the high peaking
demands of the construction season, planners must decide
whether to upgrade existing infrastructure that will then be
overbuilt for ongoing requirements, or risk congestion and the
related costs.
Project risk and cost is significantly different for northern
projects because of the uncertainties of weather, local ground
conditions and the distance that these construction sites are
from their supply points. Unforeseen upsets can scuttle the
construction schedule thus causing a delay of not a few months
but a whole year. The interest costs and opportunity costs
associated with these types of catastrophic delays compound
the project risk and costs.
Redundancy in equipment and supplies is necessary to
mitigate some of the project risk. However, having two items of
a critical part or piece of equipment adds considerably to the
risk.
Standby costs are inevitable. It doesn't make sense to
demobilize the equipment south during the off-season.
However, the equipment owners must be given standby fees
to compensate for the fact that their equipment must remain
idle for up to eight months per year.
Northern drilling, which is essential to justifying the pipeline
faces similar seasonality. The costs of drilling a single
exploration well in the north can be as high as $25 million. Of
this amount up to 30% of the costs relate to northern
operations and would not be incurred in southern drilling.
People movement will also be a significant challenge. The
Mackenzie pipeline is schedule to be constructed in two winter
seasons. This will result in very large construction crews. These
crews will be housed in large construction camps that will be built
along the right-of-way. However, this means that on a daily basis
these crews must be transported from the camp to the
construction sites. At its furthest point between camps this will
require a 2-hour trip. Again this adds to the costs and reduces
the efficiency.
Mackenzie Valley Pipeline
The Mackenzie Gas Project proposes to build a 1220-kilometre
pipeline system along the Mackenzie Valley. It would link
northern natural gas producing wells to southern markets. The
main Mackenzie Valley Pipeline would connect to an existing
natural gas pipeline system in northwestern Alberta. The natural
gas exploration and development companies involved in the
Mackenzie Gas Project have interests in three discovered natural
gas fields in the Mackenzie Delta - Taglu, Parsons Lake and
Niglintgak. Together, they can supply about 800 million cubic
feet per day of natural gas over the life of the Project. Other
companies exploring for natural gas in the North are also
interested in using the pipeline. In total, as much as 1.2 billion
cubic feet per day of natural gas could be available initially to
move through the Mackenzie Valley Pipeline. Planning, building
and operating the proposed $7 billion Mackenzie Gas Project will
take cooperation among many different companies,
communities, settlement regions, regulatory agencies and
governments.
This project is competing with the Mackenzie Valley project
and is being lead by the Alaska Gas Producers. The Alaska
Highway pipeline would begin at Prudhoe Bay, Alaska, parallel
the oil pipeline to Fairbanks, and then follow the Alaska Highway
through the Yukon and northeast B.C. and on into Alberta. The
AHPP will carry gas to southern markets. Approximately 760
km, or 30% of the route, would be in the Yukon. The pipe itself
would be 42-52 inches in diameter. Pipeline capacity would be
2.5-5.6 billion cubic feet/day. The construction and operation of
the AHPP is expected to generate up to 375,000 person years.
This project is estimated to cost $13 billion to construct and
depends upon permits to drill in environmentally sensitive areas
in Alaska.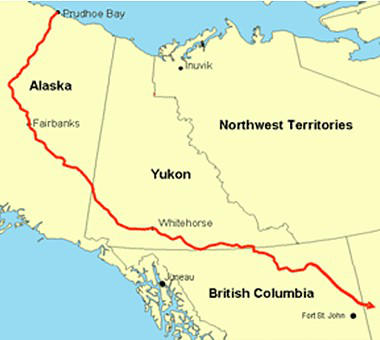 The Gateway Pipeline is being proposed by Enbridge Inc. and
is envisioned to be a 30-inch, 400,000 barrel per day pipeline
running from Edmonton to the west coast of British Columbia,
where ships would take crude oil and petroleum products to
refineries in California and the Far East. Pending regulatory
approvals, construction could begin by 2008 and it would be
operational by 2009/10. A regulatory application for the $2.5
billion, 1,160-kilometre (720-mile) crude oil pipeline would
have to be made in 2006 to achieve a late 2009/2010 in-
service date, which is when Enbridge's Western Canada crude
oil supply forecast indicates that oil sands production will have
increased to the level that access to a major new market will be
beneficial to producers.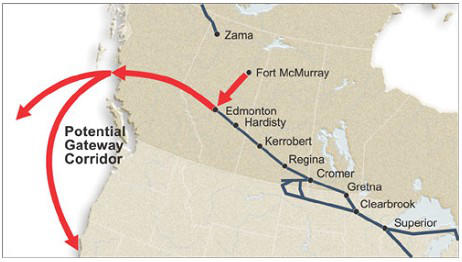 TransCanada Corporation is proposing a US$1.7 billion oil
pipeline project to transport approximately 400,000 barrels per
day of heavy crude oil from Alberta to Illinois. Transporting oil
from Hardisty, Alberta to markets at Wood River and Patoka,
Illinois, the proposed Keystone Pipeline would be about 3,000
kilometres (1,870 miles) in length. In addition to new pipeline
construction, it would require the conversion of 1,240
kilometres (770 miles) of one of the lines in TransCanada's
existing multi-line Alberta and Mainline natural gas pipeline
systems in Alberta, Saskatchewan and Manitoba. TransCanada's
other existing pipelines will continue to transport Western
Canada's natural gas to markets in Canada and the United
States.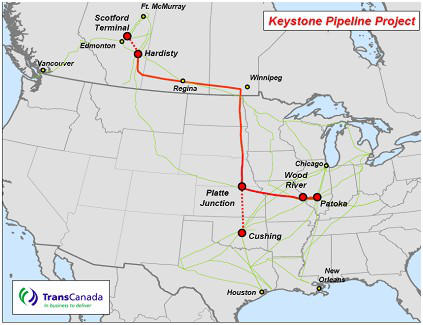 Millennium Airship Inc/SkyFreighter Canada Ltd