The use of air transport in mining development started early in
Canada. Bush planes, like the Beaver aircraft, were crucial to the
development of gold, silver and nickel mining in northern Quebec,
Ontario and Manitoba.
Air transport enabled people
and equipment to undertake
resource exploration and
development in areas that are
virtually inaccessible. Roads and
railway lines were eventually
built to the richest of these
deposits. But even today,
Canada has the renown of being
the largest single market for
helicopter services.
Despite their success, bush planes and helicopters have
limitations in both payload and flight distance. Development of
large-scale mines or energy exploitation was only possible in the
southern fringes of the north where rail lines or road links could
be built economically.
Many types of cargoes are required for mine development and
operations. The main categories include construction materials,
fuel, equipment, machinery, cement, explosives, camp supplies,
food, etc. Fuel is the largest single input requirement that limits
northern development. Supply shortages of some mining
provisions may be a nuisance, but a fuel shortage can be a
catastrophe. A mine that is forced to shutdown its concentrator for
lack of fuel may never be re-opened. The camp would face some
very significant safety issues without heat and electricity.
Transporting fuel is costly
and environmentally risky.
Typically fuel is transported
in bulk using rail, truck or
barges. Mines that have no
railway, gravel roads or
marine access must
operate using ice roads
during a short winter
season.
Known mineral deposits
and operating mines near
Yellowknife, NWT is
identified on Map 1. A
seasonal ice road serves two
operating mines and a third
mine under re-development.
Two of the properties are
diamond mines (Ekati and
Diavik) and the third is a
gold property (Lupin).
These mines require approximately 200 million litres of fuel,
annually. The years supply of fuel is trucked over an ice road
that operates for a 12-16 week period. In addition to the fuel, a
whole years supply of grinding balls, explosives, plant supplies,
non-perishable camp supplies, etc. must be moved over the
400-kilometer ice road. The transportation cost for fuel is about
$40 million. The total cost for all freight, including building and
maintaining the ice road, would be much higher.
The capacity of the ice roads out of Yellowknife could easily
be reached if the season shortens, one of the mines expands
(which is a realistic possibility for Lupin), or another property
tries to connect to the existing road. Adding more lanes over
the lakes could extend capacity, but ultimately, safety concerns
would impose an upper limit on traffic.
Transportation Challenges Affecting
Mining in the Territories
Diamond and gold mines require large volumes of fuel and
other supplies to be trucked in to their operations, but the
monthly output can be carried out by air. This is not the case for
base metal mines (copper, zinc, nickel, etc.) that have much
larger volumes of outbound materials to transport. This means
that for economic operations, they have better transportation
service. An example is the undeveloped Izok Lake discovery that
is located in central Nunavut. This mineral deposit is of world-
class proportions. The grade of zinc, lead, copper and gold (16.5
million tones) would have been mined long ago, if it were
accessible. This property is owned by a large publicly traded
international mining company (Inmet Mining) would produce
350,000 to 400,000 tons of concentrate annually and employ
250 persons. A pre-feasibility study suggests that the mine
would have a minimum life of 13 years based on known
reserves.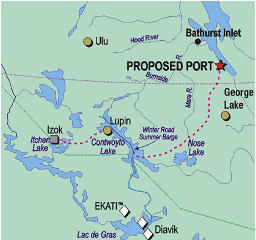 Several major mining companies have considered developing
the Izok Lake reserve but all have failed to overcome the
transportation challenges associated with economically moving
mining supplies, principally fuel, into the mine site and
concentrates back out.
Unlike a diamond or gold
mine where the finished
product can be brought out
in a small airplane on a
weekly basis, base-metal
mines have to stockpile
their inventories for 9 to 10
months. In addition to the
direct costs of ice roads, the
indirect costs of financing
inventories contribute to the
total logistics costs of the
mines. Inmet provided the
following comparative costs.
Mining companies have examined many creative solutions to
the Izok Lake transportation dilemma. Considerable study was
made of building a deep-water port on the north shore of the
continent at Bathurst Inlet. This port would be the terminus for
a 265-kilometer all-weather road to the mine. The cost of
constructing a deep-water port and building the road is
estimated to be $250 million.
In addition to transporting the concentrates to a point where
they can be shipped to a smelter, there is a requirement to
haul fuel and supplies into the mine. Also, for an air only
option to be feasible, the aircraft must also be able to transport
the equipment and construction materials to site as part of the
facilities construction. An Inmet representative has estimated
that to be competitive with ground transportation, excluding
the cost and maintenance of the road, the airship would have
to offer a price of $50/ton.
Isok Lake is only one example of where transportation has
prevented a mine from being developed. The lack of access
from mining sites to conventional transportation, such as a
port, is widespread. In an attempt to resolve this issue, the
Federal Government and the mining companies with interests
in the area sponsored a $6 million study to consider developing
an all-weather road that would connect with the existing ice
roads. In addition to the commercial aspects of this project,
there are important social issues. Who will pay for the road?
Do the economic benefits offset environmental impacts? How
will a road affect the aboriginals living in the area?
Millennium Airship Inc/SkyFreighter Canada Ltd